Heading North
Last night I dreamt I felt another earthquake. Weird. Woke up this morning pondering the dream and felt a little tremor. Aftershocks from a dream?! But then discovered we did have another quake this morning at around 3:00am, and the aftershock was real.
Don't think I posted since the big earthquake, but we were definitely awake for that one. It seemed to last forever (about a minute, solid) So long I was actually starting to get a little seasick. We kept looking at each other and looking at the roof and saying, "wow", "wow."
I was impressed in the days that followed, the big lines of cars and trucks bringing food and water and supplies to the park to assist. We didn't have any spare clothes or spare anything really, but we bought some big bags of rice to tote down there.
Had an interesting talk with an Ecuadorian yesterday about the Buen Vivir initiative. He wasn't that impressed with it and thought: a) he could figure out himself how to have a good life and didn't need any input from the government and b) the government officials in charge of the program just sit on their butts all day. Nothing like some on the ground reporting. The Ecuadorians I've met do seem like a pretty independent bunch, don't really trust the government and pride themselves on figuring ways around the system. But that's a topic for another post.
Flying out today, hopefully. There was a minor mishap at the Cuenca airport last month. A plane skid off the runway and out onto the field. It is a rather short runway, but it's the first time it had happened in 10 years and no one was hurt. It took them a few weeks to drag the plane across the field to the hanger. Guess they had no procedures, so the airport was closed for two weeks while they figured it out. Soon after, some bureaucrat decided that if it rains, flights will be canceled. Effective until August 10th.
There's a few problems with that. It rains a lot here, and it's unpredictable when. Usually it only lasts an hour or two at most, but it may come in the morning, afternoon or evening. We've learned it usually rolls in from the east, so we check the sky before heading out. Most people around here don't even bother and if it lets loose they hang out in a doorway or just walk through it, figuring they'll dry out later. About 1/3 may actually have umbrellas or raincoats.
But back to the problem at hand. Since the rain is unpredictable, we don't know if we're going to fly out today or not. But since we already bought the tickets, if it does rain, we're out of luck. No refunds. Because it's not their fault, they didn't know it was going to rain. Act of God and all… uhhmmm…
So I bought a white rose from the flower vendors the other day. She said 50 cents, I said 25. Started to check the next stand and she decided 25 would work. You're really not supposed to negotiate for these type of operations, but negotiation is just a way of making small talk around here.
I put the flower in my cool Ecuadorian double high shot glass vase and gave it to my little Ganesha, clearer of obstacles, to help streamline the trip. Another challenge will be getting a taxi during rush hour today since the streets are closed outside our door for the construction. But I have a feeling things will work out.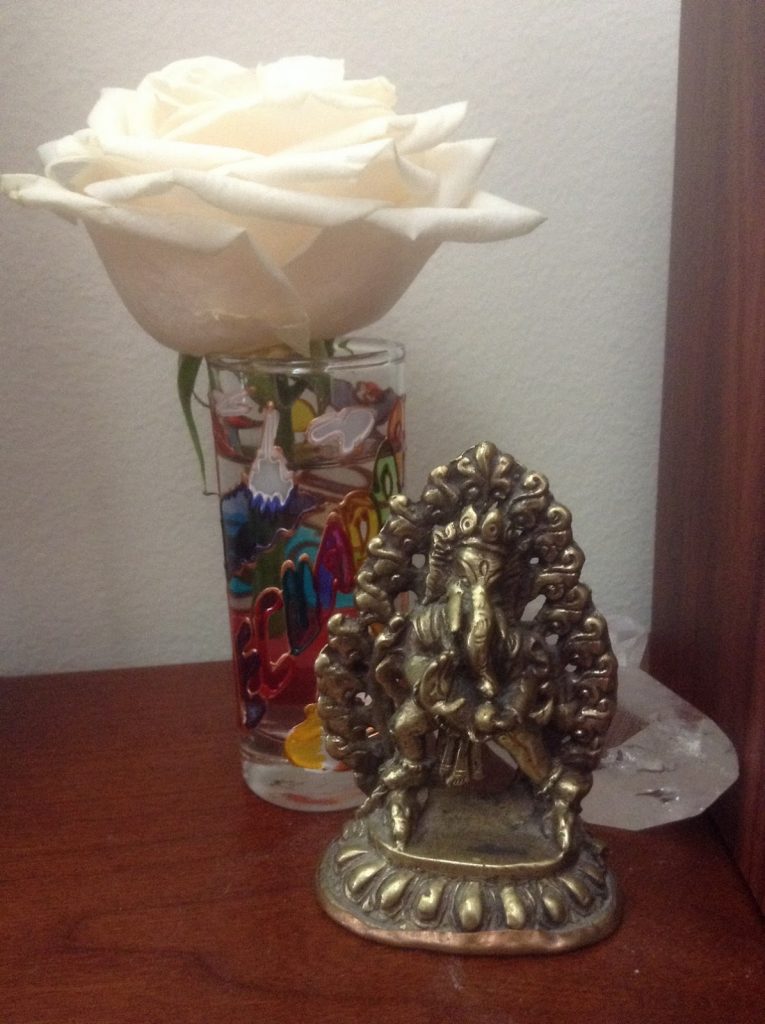 ---
Looking forward to visiting friends and family and to catching up on some food cravings (cheddar cheese, sushi, indian, a good steak or two. Ale.) And some wrestling with the grand-daughter. Safe travels to the other crews heading north and south east. Got to catch up on our hugs and tall tales!