Coca Cola - It's the Real Thing
Today's escapade started with a thirty minute walk back to the Civil Registry office to pick up our long awaited cedulas. We almost had it nailed yesterday, but their printer went down and it was unclear whether they'd be caught back up by 5pm when they closed. We could take a gamble and wait another hour or come back the next day. We choose the later. On the way back today we stopped to eat lunch at a little place we noticed the day before. (For some reason I'm obsessed with these little Almuerzo places and check the menus of each as I walk by for future reference.) While we were eating I noticed these unusual bottles of Coke behind us.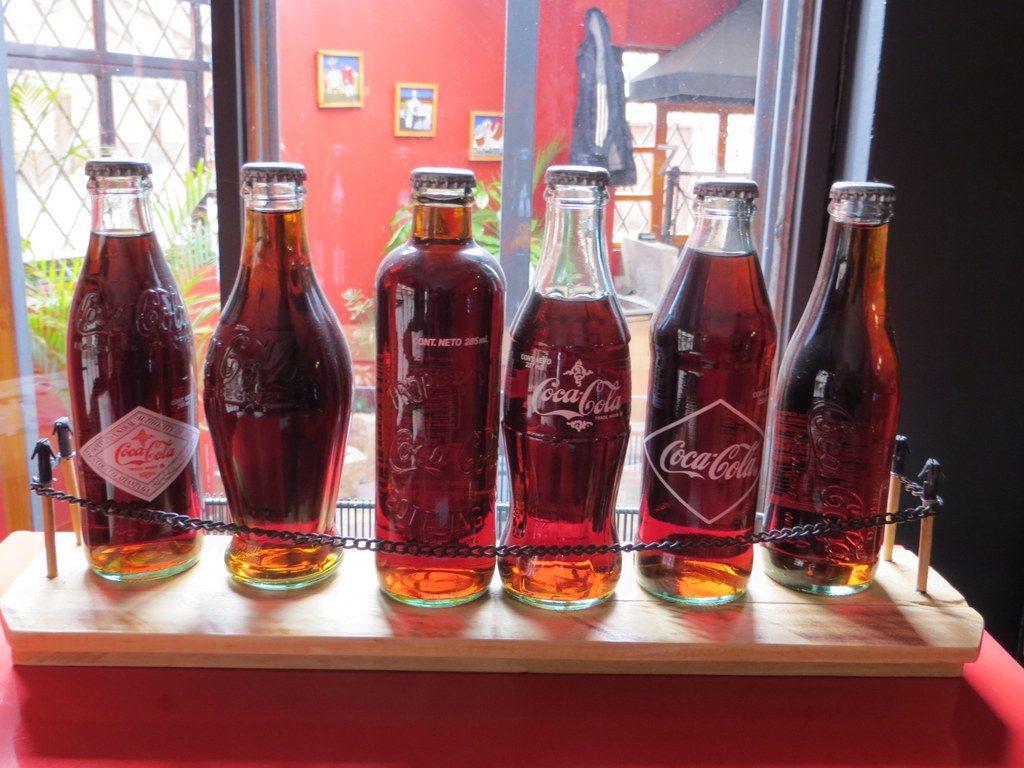 The manager said he got the collection from his Dad, they are the actual Coca Cola back when they used to use coca leaves as the secret ingredient. (Coca Cola has some sordid history in South America: Colombian paramilitary, Guatemalan death squads and such, which you could read about here  if you're a history nut) They were each about 2% cocaine, which makes them pre-1903 when they reduced it down to minuscule amount. They finally took coca out completely in 1928.
And speaking of history, I picked up a Chirimoya today. You might recognize the name from the set of links on the right. It looks kind of like a dragon egg, to me anyway. Even feels kind of leathery. I'm gradually expanding my fruit repertoire and have been waiting for the right moment for this one. And historically, it was no less than Mark Twain, in the The Sacramento Union newspaper, who claimed that the Chirimoya was "the most delicious fruit known to men."
It is currently chilling in the fridge. My plan of attack is to eat scoops of it later tonight like ice cream to celebrate our official residency status in Ecuador. And see if Mark Twain was telling a yarn, as he was known to do sometimes, or whether he was actually on to something. I'll let you know.