Standing Rock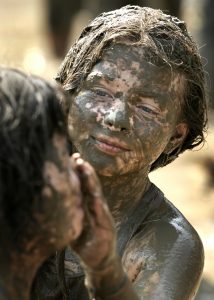 My thoughts today are at Standing Rock. In a dream last night, I smeared my face with a mixture of earth, water and some fragrant herb. Ok, yeah, mud. I showed another gringo how to do this. Yeah, I'm part gringo too, though I'm also in the tribal rolls. I showed him how to clap, hands above head, to each direction. A young Native American approached, we hugged, he said "well met brother", and ran up the mountain, turning somersaults in grassy openings. I thought it looked like fun, and before the final part of the ritual, washing my face in the river, I slid down a steep grassy slope on my belly that felt like fur (the slope, not my belly) to the bottom of a vale. And I awoke thinking about Standing Rock and the Ghost Dance of the Pauites and Wounded Knee.
The Oxford dictionary word of the year for 2016 is "post-truth." An adjective "relating to or denoting circumstances in which objective facts are less influential in shaping public opinion than appeals to emotion and personal belief." This is about all we see in the news these days.
Investigating Standing Rock a little more deeply, it's not so black and white as post-truth media suggests. On the one hand, The U.S. Army Corps of Engineers green-lighted the project with an apparently cursory review and environmental assessment and approved it under a "fast-track" option. Native Americans protested, reacting against environmental issues in addition to the dispossession of their lands.
Technically the pipeline doesn't cross Native American lands, except there is an old treaty, before the reservations were parsed out, which was never formally nullified. Nor are there any ancient burial grounds or sacred archaeological artifacts. The pipeline does cross under the Missouri river a half mile from the reservation and a spill could have major impact on a critical water supply. Normally this would have required review as mandated in the Clean Water Act but somehow($?) it got an exemption.
Camps were setup by Indigenous leaders which have been the focal point of the spiritual and environmental resistance, attracting many protesters, especially on the weekends. One camp that was forcefully evacuated was directly in the path of the pipeline. There are the skirmishes with private security companies and militarized police using dogs, concussion grenades, rubber bullets and water cannons in freezing weather. Along with claims of protesters ignoring private property lines and harassing security guards with knifes and poking them with fence posts.
The company claims it is losing millions daily in delays caused by the protest. The protesters point out that recent pipeline spills, one in Kalamazoo river in Michigan and another crude oil spill in the Yellowstone River in Montana has cost over a billion to date to clean up and are still contaminated.
Unless one is in firmly in one or another of the post-truth camps, this is not a clearcut issue over right and wrong. On the one side is water and earth. From the dream, to me this speaks of things that endure, epochs of time rather than moments. And clarity. Clean water is both clear and reflective.
On the other hand is fire and air. Supply and demand. There is a great and immediate demand for oil and thus great profit in providing it. There are better solutions long term, and on the horizon, but we have tremendous sunken costs. Jobs, conveniences, stability in the status quo. The elders at Standing Rock don't deny this reality. But many of the protesters are against fossil fuel companies as a matter of principle.
The company could have taken another route, at the cost of an additional 11 miles and endangering a different water supply. One in an area predominately white. I'm not sure race made as big a difference as the accounting on 11 less miles of pipeline.
Many indigenous are tired of being pushed out of the way time and time again for economic interests of companies, shielded by state or government authority for hire, and see this as an opportunity to come together to take a stand. There are 3 kinds of power in this world (thanks Starhawk.) Power-over is the power of force. Power-with is the power of a collective wisdom and power-within is our own personal and spiritual integrity.
In our times it seems the power of force and law is often at odds with the sensible or the just. And opposing this in return with the power of force leads to wars, terrorism and revolutions in a never ending cycle. What's emerging, at Standing Rock and beyond, is an awakening of these twin powers of with and within as a strength to be reckoned.
First within, with clarity and reflection on what is important to a quality of life that's based on more than fear or greed. A letting go of appearances and things to experience the essence of what and who we are and want to be. Many are disillusioned with self-worth based on what we consume, or what we own or where we happen to be born in the world.
Then comes the "with" as we learn we are all part of the same journey. That this planet is alive and that everything is connected. That we have eyes in our hands all over the world that turn into streams of images of things that can't stay hidden. Not only are the voices of the surveilled accessible to those in power but voices of those in power, spoken in secret, can be heard by the people.
What can integrity and connection do against force? What can awareness and communication accomplish? I think we're going to see more examples like Standing Rock, becoming more and more effective at swaying the attention of the world back to things that matter to all of us, not just a few of us.
And maybe we need to touch bases once and while with mother earth and get a little mud on our faces and honor the quarters and turn a few somersaults or roll down a hill confident that we are part of something much bigger than ourselves.
Maybe the word of the year 2021 will be "post-force."