The Swing of Things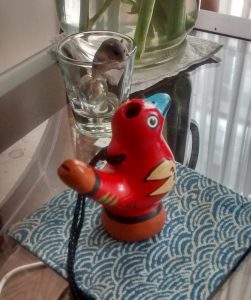 Well we're back in the swing of things here. And by the swing of things I mean mainly chillaxing, taking long walks down by the river, to the mercados for our weekly necessities: bananas, strawberries, butter, eggs, broccoli where they are always trying to add white broccoli (cauliflower) to the mix and strange fruits. Today I tried something that looked like an oversize, oblong grape, had a huge seed in the middle, tough skin, but sweet and yummy. What it is I dunno. We've been going to this new restaurant about every day the last couple of weeks for their lunch specials for $4. Consists of fresh squeezed juice, a creative and filling soup, a main dish like old school tacos, turkey pot pie, pork chops, shrimp gumbo and a small dessert. With a tip it's a pretty filling brunch for two for $9.
Miko picks up flowers once a week from the flower market while I usually just hang around and drink the koolaid the nuns make while she haggles for just the right combinations.
We've gotten quite spoiled by the weather. It's always almost perfect. All year. About 75 in the days and 55 or so at night. If it rains it usually only lasts an hour or so. Last weekend was another festival, starting around Thursday and lasting to the following Tuesday. Day of the dead, Cuenca independence day, etc. Lots of stuff happening. I bought a flute, which I can't play. Someday maybe. I usually practice it a few times a day until I get dizzy. Once in a while it makes a sound for me.
And I finally found a little bird flute thingy I've been looking for. You put water in it. And it sounds like this…
Looking forward to spending xmass with family! Meanwhile, we are back to Spanish. Can't leave here until we're fluent. It might be decades…